Intelligent Wireless Networking Door Lock System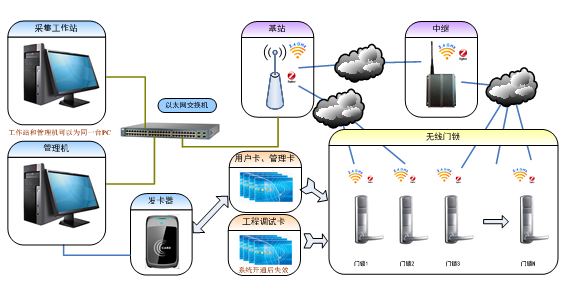 The wireless networked door lock system can automatically authorize/disable user cards, monitor the on-line status of door lock terminals and record card swipes through the network. In addition, it has the features of automatic receiving of authorization/prohibition list, recording and automatic uploading of lock status. All functions are as follows: department personnel management, equipment maintenance, issuance of smart IC cards, authorization management, room management, card swipe record report query and other functions.
The main functions of the wireless networking door lock system service are to process room status and authorization information (when the authorization expiration time has arrived, the service automatically updates the authorization status of the personnel to the authorization status that the user does not need to operate manually again), synchronization time (to make the database server time and the computer time of the installation service consistent, to ensure the correct data processing).
It can realize record upload and PC list issuance. Through management software, it can real-time monitor the signal and on-line status of door lock equipment, so as to facilitate customer operation and maintenance. It is a safe, reliable, efficient and energy-saving intelligent electromagnetic lock with advanced technology, flexible operation and free and convenient management.